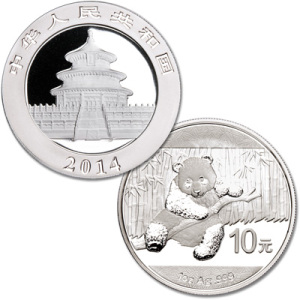 China 1 oz. Silver Panda Specs:
Issued: 1983-date (no coins released in 1986 or 1988); Denomination: 10 Yuan; Silver content 1983-1985: 27 grams of 90% silver, 1987-date: 1 ounce of 99.9% silver
I can still remember the first time I held a large silver bullion coin. It wasn't a panda, but still – wow. If you've ever seen one close up, or felt its weight in your hand, you know the feeling; it's an odd mixture of awe and wonder. Even though I had grown up with a coin collector in the house, until then the most impressive coin I'd seen was a Buffalo nickel. Don't get me wrong, those are something else too, but… sometimes bigger IS better!
About the series & how to collect it
China's silver Panda series was first issued in 1983 – one year after the gold pandas debuted. Aside from its adorable and popular theme, these coins are famous as one of the few bullion coins in the world to change their reverse design each year. The country froze the design in 2001, meaning a design was repeated for the first time (in 2002). It wasn't long before collector complaints made it perfectly clear just how unpopular that move was, and unique designs began once again in 2003.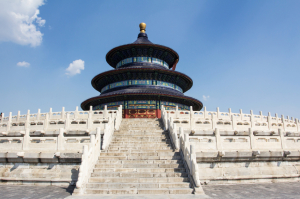 Originally built in 1420 during the reign of Ming Emperor Yongle, the Hall of Prayer for Abundant Harvests was modified over the years (the last time in 1751). Today, this Temple of Heaven structure stands as a UNESCO World Heritage Site.
One piece of China's panda coin design has remained unchanged from the start. Each year, the obverse features the Hall of Prayer for Abundant Harvests, a part of Beijing's majestic Temple of Heaven. Although the obverse has seen slight changes over time, the main design featuring this incredible feat of architecture has held strong.
Just like with any collection, the different ways to collect China Panda coins are as open as your imagination. I know many people like to own one coin from each year, put together in a nice display album. The earliest silver Panda coins can be harder to locate now, so some collectors choose to build their collection from 1989-date.
Fun new 2014 Panda design
The latest reverse for 2014 is another "win" for this silver bullion series. A young panda is shown sitting with a tree branch, while a patch of his favorite food, bamboo, runs along the background. Although it isn't my favorite design (personally, I like the 2005 reverse), it's still completely adorable and heart-warming.
It's been more than 30 years since the first silver Panda coins rolled off China's mint presses – yet this series continues to win the hearts of collectors around the world. And with any luck, it will for generations to come.
I'm curious – if you collect silver Pandas, how do you choose to build your collection? Please let me know in the comments below!